AMS PERFORMANCE R8/HURACAN ALPHA FUEL SYSTEM - FLEX FUEL KIT ADD-ON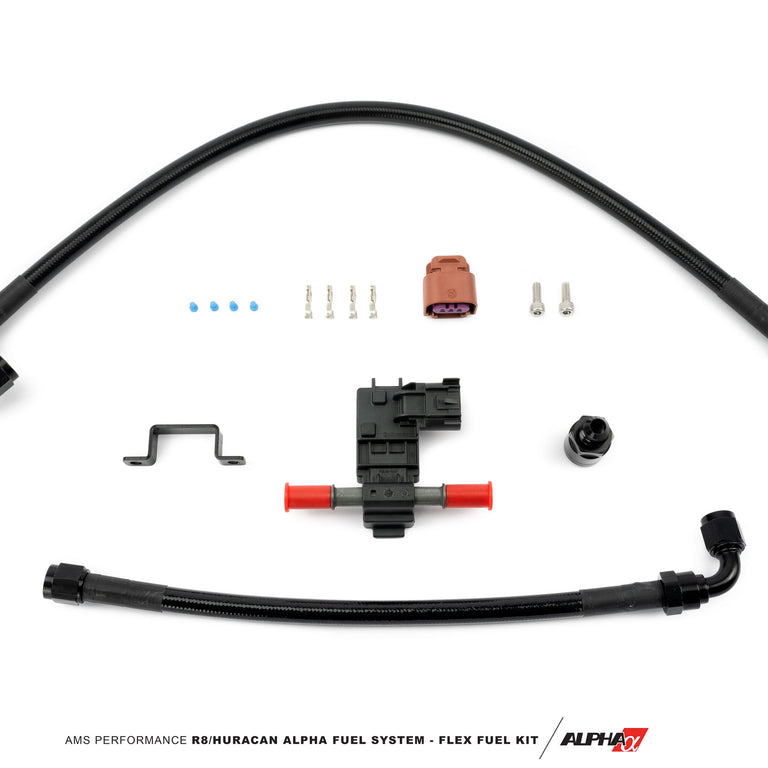 This product is currently unavailable.
Run E85 straight from the pump without having to worry about manually calculating your ethanol content percentage or switching maps! With the Alpha Fuel System Flex Fuel Kit Add-on you can run gasoline, E85, or any mixture of gas and ethanol from 0 to 100%. The AMS Performance Flex Fuel Kit's ethanol sensor and electronics instruct your vehicle's ECU on how to adjust parameters like fueling, boost, and timing to produce the most power possible for a given fuel mixture. These adjustments happen seamlessly in the background of your flex fuel ECU tune allowing you to be flexible with what fuel you utilize in your R8 or Huracan.
Full Alpha Fuel System supports 2400+ HP of fuel delivery on gasoline and 1600+ HP on e85
Flex Fuel kit allows user to run any fuel or mixture of fuels from 0 to 100 percent ethanol.
All materials and components are fully ethanol and methanol compatible
Fully integrates with standalone ECU hardware such as MoTeC M142 for a seamless solution
Uses race-grade AN fittings and aluminum quick connect fittings for easy install and leak-free operation
Plug 'n Play connector included for an easy install
Utilizes all race-grade black braided nylon PTFE lined hose for durability and fuel fume control
Stainless steel hardware to secure the kit from movement
Bolt-in install with no permanent modification to vehicle required