AMS PERFORMANCE R8/HURACAN ALPHA FUEL SYSTEM - TWIN PUMP KIT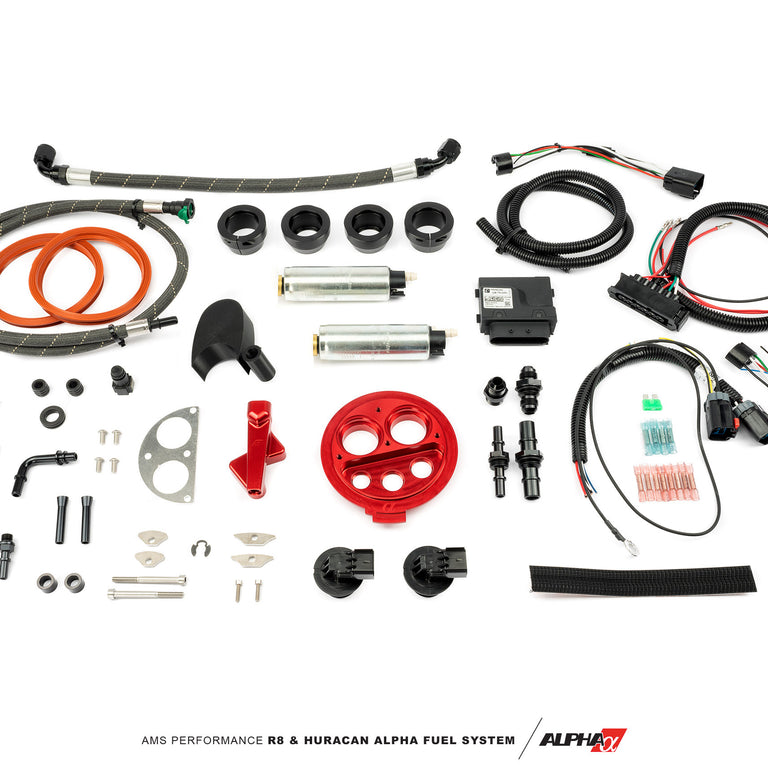 This product is currently unavailable.
The factory fuel pump system in the Audi R8 and Lamborghini Huracan utilizes a high-end brushless fuel pump, and a complex routing of fuel lines to produce an excellent fuel delivery solution. Unfortunately, the engineers designing the OEM system didn't spec it to be capable of the 1000+ HP that we commonly see from our Alpha Twin Turbo Kit vehicle builds. Our AMS Snailworks® Engineering Team took this as an opportunity to not only increase the total throughput of the fuel pump system, but to do it in such a way that all of the OEM functionality is retained. Gone are the days of being required to keep your fuel tank filled to a minimum of a half tank, or being forced to use an external fuel surge tank mounted in the engine bay.
Full Alpha Fuel System supports 2400+ HP of fuel delivery on gasoline and 1600+ HP on e85
Twin brushless fuel pumps provide quiet operation and extreme flow capability
All materials and components are fully ethanol and methanol compatible
Fully integrates with stock ECU or standalone ECU software such as MoTeC M142 for a seamless solution
CNC machined red anodized aluminum fuel pump assembly bulkhead and fuel pump outlet manifold
Uses race-grade AN fittings and quick connect fittings for easy install and leak-free operation
Utilizes externally corrugated, smooth bore, PTFE lined hose for kink-free flexibility, excellent flow, and fuel fume control
Plug 'n Play harnesses included for an easy install
CNC machined anodized aluminum brackets secure the fuel pumps within basket
Siphon system functionality retained to allow for OEM-like low fuel level usage and monitoring