APR Carbon Fibre Intake EA888 1.8T/2.0T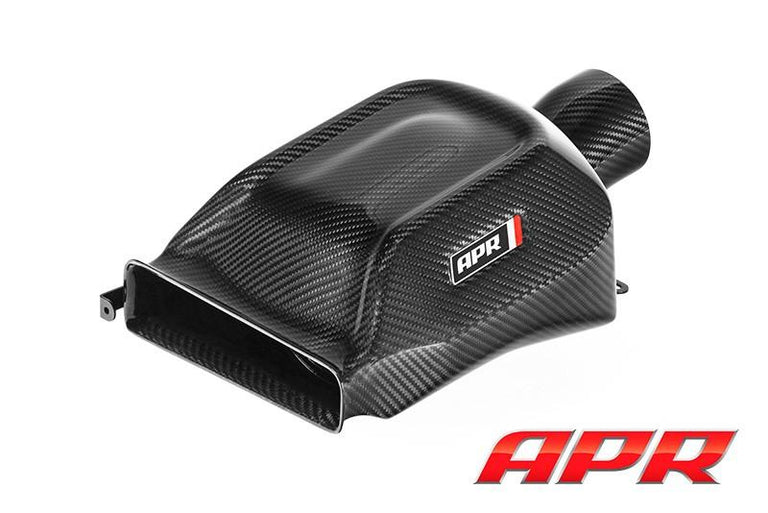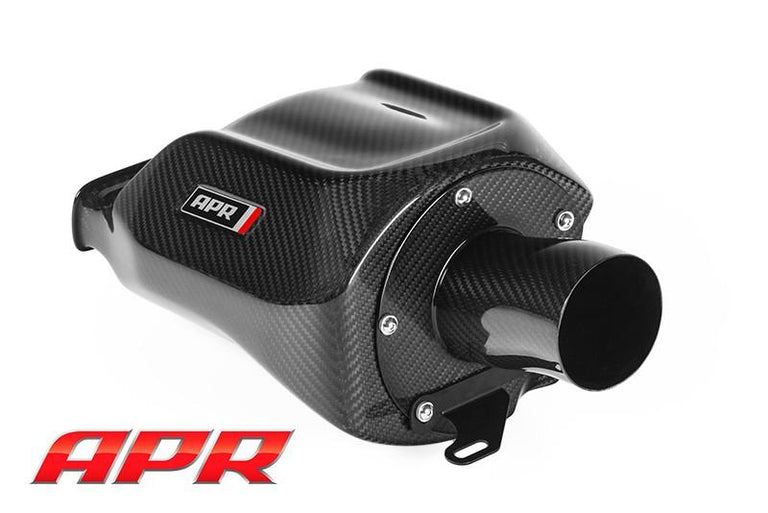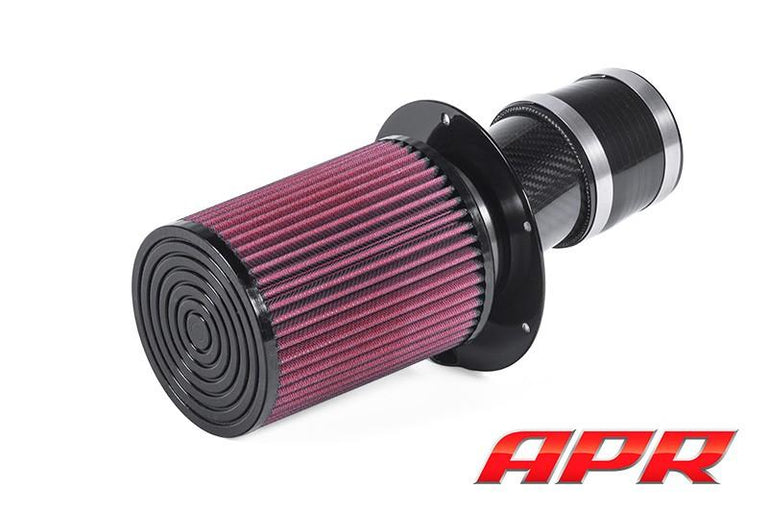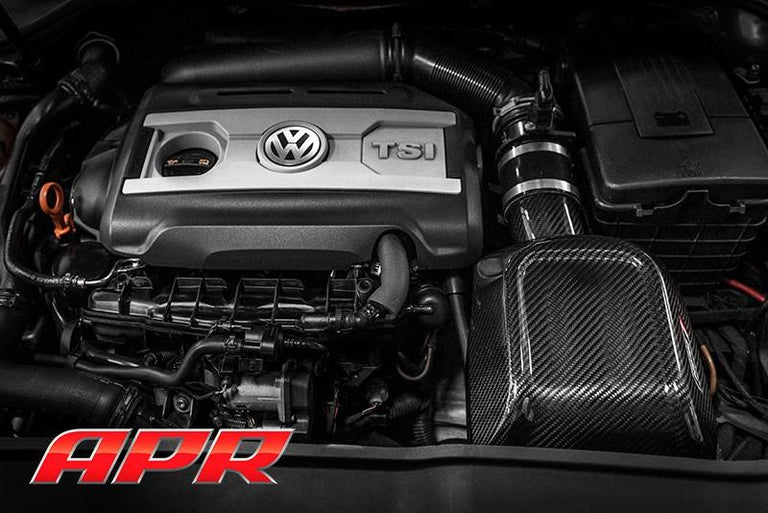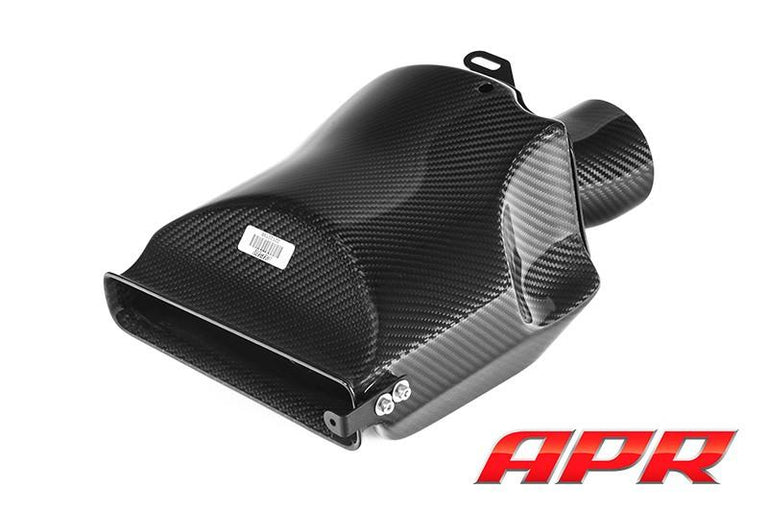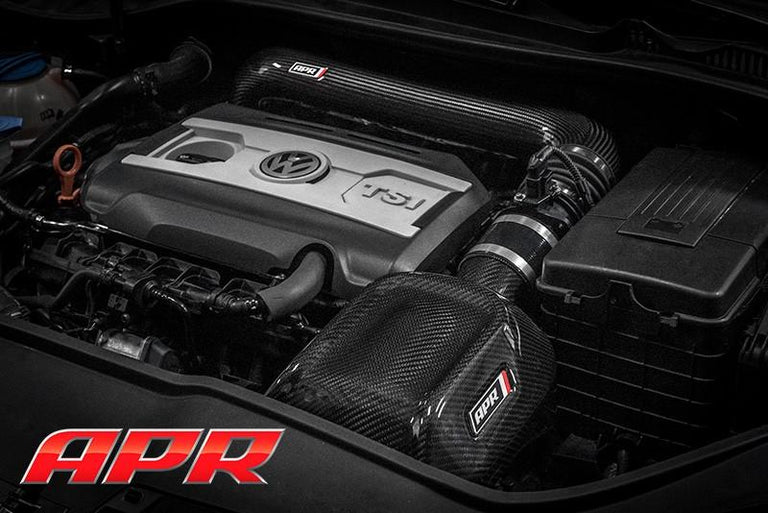 This product is currently unavailable.
The APR Carbon Fibre Intake System lets your engine breath! The stunning carbon fibre design rejects power-robbing heat from the engine bay and delivers an unrestrictive path for cold, dense air fed from outside of the engine bay. The system uses a high flow filter that provides excellent filtration without the restrictions, keeping the engine clean while optimizing power delivery. The system dramatically outflows the stock intake, sharpening throttle response and lessening strain on the turbocharger, all while supporting over 500 horsepower! The system installs in minutes, looks fantastic, delivers a sporty engine note, and is recommended at all stages of performance.
The APR Carbon Fibre Intake System connects to the factory turbo inlet piping, and provides substantial gains. Those looking to complete the system can opt for the optional APR Carbon Fibre Turbo Inlet pipe. The turbo inlet pipe is a continuous 80mm pipe that connects to the turbocharger via a port-matching silicon coupler. The PCV system conveniently connects to the intake via a billet aluminium adapter. Lastly, the system uses a flex coupler that allows adequate engine movement and flex.
Application Guide
Make
Model
Engines
Front
Airbox
Front
Airbox Adapter
Rear
Turbo Inlet Pipe
SAI
Filter
Audi
A3 - (MK2 / Typ 8P)
1.8/2.0 TFSI EA888 Gen 1
CI100035
CI100035B
CI100020A
Audi
TT - (MK2 / Typ 8J)
1.8/2.0 TFSI EA888 Gen 1/2
CI100035
CI100020D
CI100035B
Seat
Altea - (Typ 5P)
1.8/2.0 TSI EA888 Gen 1
CI100035
Seat
Leon - (Typ 1P)
1.8/2.0 TSI EA888 Gen 1
CI100035
CI100035B
Seat
Toledo - (MK4 / Typ HN)
1.8/2.0 TSI EA888 Gen 1
CI100035
Skoda
Octavia - (MK2 / Typ 1Z)
1.8/2.0 TSI EA888 Gen 1
CI100035
CI100035B
Skoda
Superb - (B6 / Typ 3T)
1.8/2.0 TSI EA888 Gen 1
CI100035
In Development
Skoda
Yeti - (Typ 5L)
1.8/2.0 TSI EA888 Gen 1
CI100035
In Development
Volkswagen
Beetle - (Typ 5C)
1.8/2.0 TSI EA888 Gen 1
CI100035
CI100035B
CI100020A
Volkswagen
Beetle - (Typ 5C) 2013.5+
1.8/2.0 TSI EA888 Gen 3
CI100035
CI100020E
CI100020A
Volkswagen
CC - (Typ 35)
1.8/2.0 TSI EA888 Gen 1
CI100035
In Development
CI100035B
CI100020A
Volkswagen
Eos - (Typ 1F)
1.8/2.0 TSI EA888 Gen 1
CI100035
CI100035B
CI100020A
Volkswagen
Golf / GTI - (MK5 / Typ 1K)
1.8/2.0 TSI EA888 Gen 1
CI100035
CI100035B
CI100020A
Volkswagen
Golf / GTI - (MK6 / Typ 5K)
1.8/2.0 TSI EA888 Gen 1
CI100035
CI100035B
CI100020A
Volkswagen
Jetta(MK5 / Typ 1K)
1.8/2.0 TSI EA888 Gen 1
CI100035
CI100035B
CI100020A
Volkswagen
Jetta(MK6 / Typ 1B)
1.8/2.0 TSI EA888 Gen 1
CI100035
CI100035B
CI100020A
Volkswagen
Jetta(MK6 / Typ 1B) 2013.5+
1.8/2.0 TSI EA888 Gen 3
CI100035
CI100020A
Volkswagen
Passat - (B6 / Typ 3C)
1.8/2.0 TSI EA888 Gen 1
CI100035
In Development
CI100035B
CI100020A
Volkswagen
Passat - (B7 / Typ 3C) ROW Market
1.8/2.0 TSI EA888 Gen 1
CI100035
In Development
CI100035B
Volkswagen
Passat - (B7 / Typ 56) NAR Market 2013.5+
1.8/2.0 TSI EA888 Gen 3
CI100035
CI100020E
CI100020A
Volkswagen
Scirocco - (MK3 / Typ 1K)
1.8/2.0 TSI EA888 Gen 1
CI100035
CI100035B
Volkswagen
Scirocco - (MK3 / Typ 1K) 2013.5+
1.8/2.0 TSI EA888 Gen 3
CI100035
CI100020E
CI100020A
Volkswagen
Tiguan - (Typ 5N)
1.8/2.0 TSI EA888 Gen 1
CI100035
In Development