KW DDC - ECU Coilovers Inox RS3 8V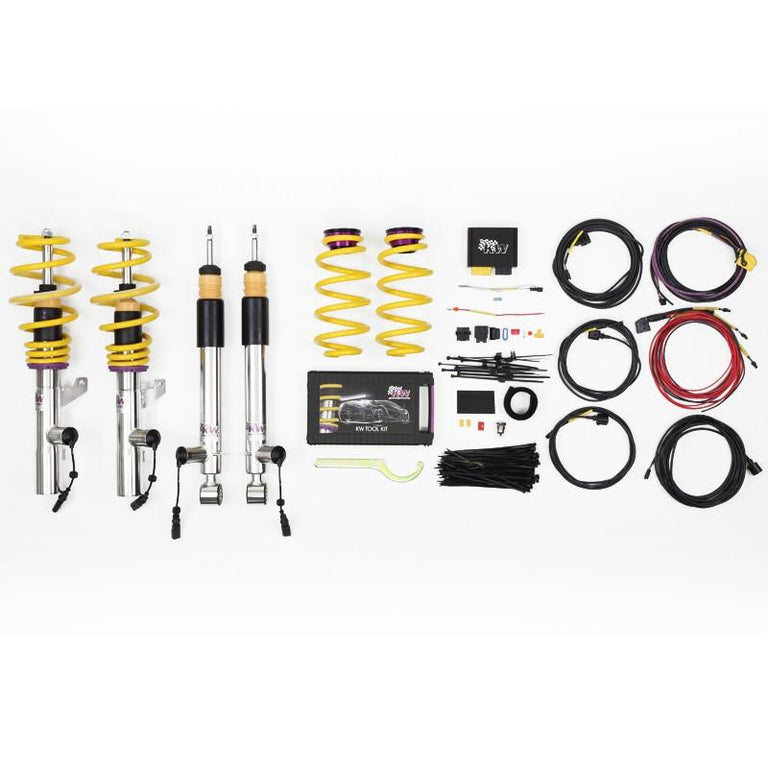 This product is currently unavailable.
The KW DDC coilovers are part of the KW iSuspension program - the intelligent suspension solution. They combine the advantages of an adaptive damping system with a vehicle-specific aftermarket suspension solution.
The adaptive KW DDC ECU coilovers allow adjustment within the tested lowering range. The dirt-resistant trapezoid thread and the composite collar allow years of accessible adjustability and ease of use. Lowering can be done via the composite spring collar on the shock body or on the height adjustable rear perch in the rear of the vehicle. No matter where in the world, sporty drivers, car manufacturers and refiners rely on our KW technology "Made in Germany". Over 4600 applications come supported with a multi-year warranty. A 5 year warranty is provided when the kit is installed at one of KW's specialist dealers. Currently KW DDC ECU coilovers with App-control are available for Audi, BMW, Mercedes-Benz, Porsche, Volkswagen and Range Rover Evoque.
Lowering levels:
Front:10-35mm
Rear:10-35mm
Features:
- retrofit electronic damper adjustment, combined with the advantages of a KW coilover kit
- with optional App-control
- three damping setups: Comfort / Sport / Sport+
- operation by retrofit button or optional App
- create personalized setups with the KW DDC App
Optional App control for real time suspension adjustment via iPhone, iPod touch or iPad.
KW DDC button - 1x button, 3x more experience
The contents of delivery of the KW DDC ECU coilover kit includes: a "KW DDC multi-selection button". This button allows the user to select between the different KW DDC driving modes "Comfort", "Sport" and "Sport+" directly from the cockpit. Here the KW DDC button changes the colour matching the KW DDC App.
Experience the latest technology "Made in Germany": the KW DDC (Dynamic Damping Control) coilovers with ECU (Electronic Control Unit). The coilovers with its electronically controlled dampers enable an intelligent suspension setup via App-control. Currently available for numerous vehicles without factory adaptive suspension.

This allows you to upgrade your car with an adaptive damper control and to have the option to adjust via the KW DDC App to suit your driving style. You do not need any tools or to physically adjust the dampers.