Racingline Perfromance Intake System - Polo GTI (6R/6C) 1.8TSI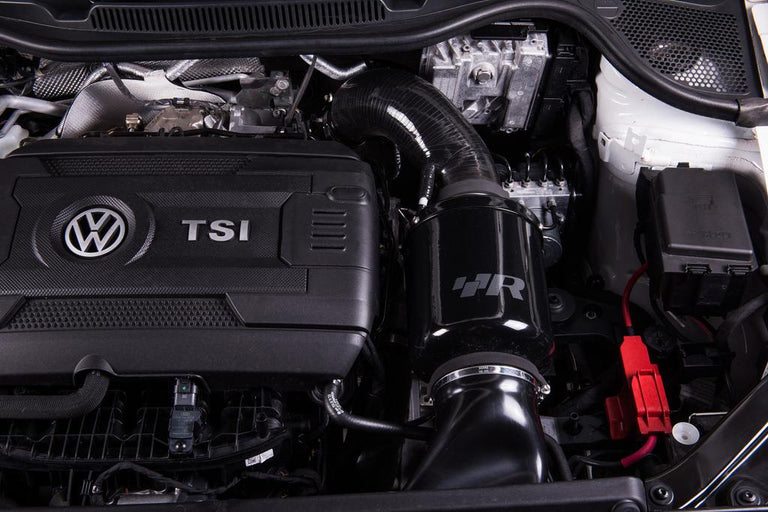 This product is currently unavailable.
The VWR Cold Air Induction System, Made by Racingline Performance, best known for delivering the Volkswagen Racing motorsport programme since 1997, out of which was born the increasingly popular Motorsport & Performance Parts range, with all Race parts heavily Race designed, developed & tested, treat your pride and joy to the best there is with Racingline Performance Parts.
One of our most popular products is the VWR Cold-Air Intake System kit, enabling cold, dense air from outside the engine bay to reach the fuel metering unit more efficiently for the 1.8 'TFSI' engine in Polo GTI 6R/6C models (although please note that these are only for models fitted with the battery mounted in the rear, not engine bay).
Our High-Flow TriFoam™ triple-layer construction is simply the best filtration material on the market, and is the key to the power gains achieved. Each filter is handmade in the UK. Some people forget that it's what's inside an intake system that really matters.
Developed for use in our Volkswagen Racing cars, the system delivers really impressive airflow gains. By reducing turbo spool by up to up to 500rpm in some cases through the enhanced efficiency of the system, lightning fast turbo response is guaranteed.
VWR COLD AIR INTAKE SYSTEM 1.8 TFSI KEY TECH SPECS
TRIFOAM™ FILTER
Trifoam® filter construction, triple-layer laminate of open-cell polyurethane foam, which gives an exceptionally high level of filtration – the very same technology as Formula One engines use.
SIMPLE FITTING
All parts have been developed exclusively for Polo 6R/6C platform 1.8 TFSI engines – meaning that fitting is straightforward, and the original mounting points are retained.
POWER GAINS
Efficient filtration and huge filter surface area means power and torque gains support higher power remaps, and an economy improvement.
EXCEPTIONAL QUALITY
Hand-built in the UK, using the highest quality materials and construction.
LAST A LIFETIME
This is a 'lifetime' filter, so never needs replacement in normal service. Cleaning is only required every 20,000 miles (30,000km) in normal usage.
SOUND QUALITY
You'll hear the rich induction noise from this race-bred intake as soon as you accelerate hard. However, as a fully-enclosed intake, volume levels are well-contained.
Through keeping intake temperatures as low as possibly, and greatly improving airflow into the engine, more power is produced, turbo lag is reduced and better fuel efficiency is achieved.
Turbocharger spool can drop nearly 500 RPMs, reducing turbo lag and creating faster turbo response.
Our development has shown that a high-flow intake system on the 1.8 TFSI engine really gives worthwhile gains on uprated cars – so this intake is best combined with a remap.
Our testing on the VWR Cold Air Intake has given gains of around 5% more effective peak power compared with the standard factory air box. Testing on cars running higher power show further increased power/torque improvements from the Intake system, as the standard air box and filter reaches and exceeds its airflow limit.
As a race-bred intake system, the rich induction noise is clear as soon as you first accelerate hard. However volume levels are well-contained, and the sound quality is music to the ears of any enthusiastic driver!
Fits: VW Polo 6R/6C GTI 1.8TFSI