Wagner Competition Intercooler Kit MK7 1.8-2.0TSI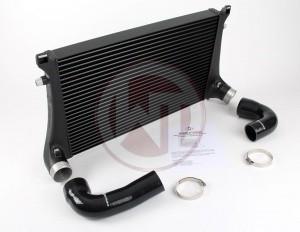 This product is currently unavailable.
This Wagner-Tuning Competition intercooler has the following core size 640mm x 410mm x 65mm and 17 litres charge air volume. The "Competition" Core offers high cooling performance and light weight (8.4KG).
Optimized in our CAD systems, the new competition-high-speed core and cast aluminium end tanks give this intercooler excellent cooling properties. Flow analyses and simulations were created to optimise the design for best possible internal airflow.
This intercooler is the best choice when it comes to performance gains and low intake temperatures. Significantly reduced pressure drop than the OEM Intercooler. Anti Corrosion protective coating with perfect thermal heat dissipating character. Optimal cooling with clearly more power.
Kit is ready for installation, 100% perfect fit. Fitment is easy, replacing the OEM intercooler. All of our products undergo rigorous quality control.

This Wagner Tuning VAG 1.8TSI - 2.0 TSI Competition Intercooler Kit is suitable for :-

- VW Golf 7 GTI 2.0 TSI 162KW/220PS 169KW/230PS
- VW Golf 7 R 2.0 TSI 221KW/300PS

- Audi A3 8V 1.8TSI 132KW/180PS*
- Audi S3 8V 2,0TSI 221KW/300PS*
- Audi TT 8S 2.0TFSI 169KW/230PS*
- Audi TTS 8S 2.0TSI 228KW/310PS*
- Seat Leon 5F Cupra 2.0TSI 206KW/280PS*
- Skoda Octavia 5E 1.8TSI 132KW/180PS*
- Skoda Octavia 5E RS 2.0TSI 162KW/220PS*
* modifications to the vehicle are required.