Wagner Porsche 991Turbo (S) Competition Intercooler Kit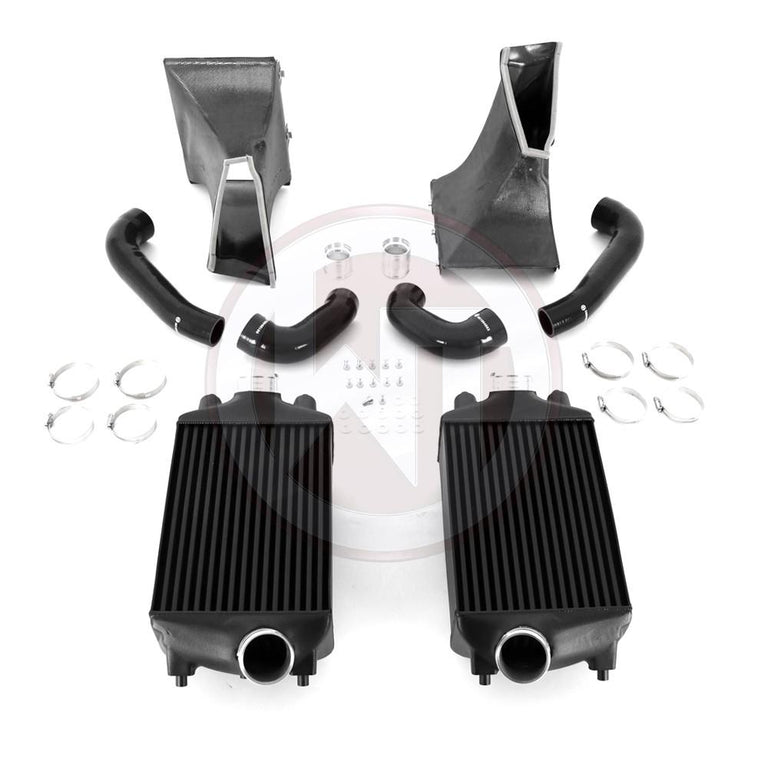 This product is currently unavailable.
Competition Intercooler Kit for Porsche 991 911Turbo(S)
The Wagner Tuning Porsche 991 911 Turbo (S) Intercooler Kit has the following core size (2 x [320mm x 238mm x 110mm] = 16.755cm?), providing 40% more volume compared to the stock mounted intercooler. Our engineers have increased the intercooler core size and efficiency, as well as improved the end tank design to remove any OEM bottlenecks, resulting in increased flow rating and charge cooling properties. This intercooler Kit uses our award winning Wagner Tuning Competition Intercooler Core which is made specifically for this application. It is one of the highest quality Tube Fin cores available on the market. The intercooler has just a weight of 2x 5,3kg. Flow analyses and simulations were created to optimise the design for best possible Internal Airflow. The Intercooler Kit also includes a suitable carbon air shroud to ensure optimum airflow to the intercooler. As well as additional silicone hoses with an enlarged cross-section. This intercooler kit is the best choice when it comes to performance gains and low intake temperatures. Anti Corrosion protective Coating with perfect thermal heat dissipating character. Optimal cooling with clearly more power. Kit is ready for installation. Fitment is easy, replacing the OEM intercooler. All of our products undergo rigorous quality control and are also tested by compressive strength of up to 6 bar. This intercooler kit is suitable for racing. 65mm diameter In and Outlets
Optionally available with compatible Y-charge pipe made of cast aluminium If you buy the intercooler kit in combination with the Y-charge pipe you save 5%.
Intercooler Upgrade Kit for:

Porsche 991.1 911Turbo 383KW/520PS
Porsche 991.1 911Turbo S 412KW/560PS
Porsche 991.2 911Turbo 397KW/540PS
Porsche 991.2 911Turbo S 427KW/580PS
Porsche 991.2 911Turbo S Exclusive 446KW/607PS

Kit comes with:
2 Intercooler black
2 Carbon air shrouds
4 Silicone Hoses
8 Hose Clamps
1 Mounting Material
2 Aluminum Adapter
1 Installation Instruction